Vintages
by Elena Knezhevich 

Perfumes Corday, unfamiliar to a wider audience, are very interesting and respected by collectors of vintage perfumes, since the perfumes by Mrs. Blanche Arvoy, who started the house of Corday in 1924 in Paris, were popular in the middle of the last century, before and after the World War II.

Blanche Antoinette Rose Reneaux was born in the suburbs of town Calis, in 1892. After she married a British man, Bertie Istvan Arvoy, she changed her name into Blanche Arvoy.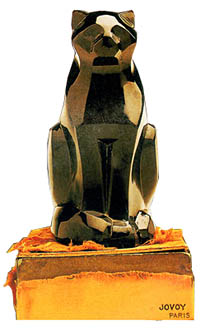 For her first creations, made for the brand of Jovoy, she was awarded for the concept and unusual presentation of fragrancess—all the perfumes had unusual names and had animal-shaped bottles:  
 



1924 Allez hop! (Dalmatian),  
 
1924 Allez Coco! (Budgerigar),
 
1924 Severem (Camille and Rider),
 
1926 Gardez-mois (Cat)
 

A year after Jovoy was started, Blanche Arvoy opened the House of Corday. All other perfumes were released by this new brand. The house was named after Charlotte Corday, a famous figure from the French Revolution.  


Charlotte Corday: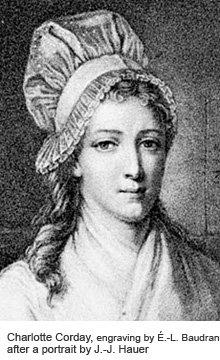 Charlotte Corday was a French aristocrat, a beauty from Lower Normandy, who was terrified by the September massacre of 1792 (at the beginning of the Revolution) and by possibility of civil war in France, and therefore killed the main culprit, Jean-Paul Marat. She killed him with a knife in his house while he was in a bathtub, where he spent a lot of time because of a hereditary skin disease he had.

Charlotte Corday sacrificed herself, according to her words, for France and for peace: I killed one to save 100 000. After the assassination, she was imprisoned, tortured and beheaded four days after Marat's death, on July 17, 1793. She declined the services of a priest before her death, but she asked an officer of the National Guard, Hauer, to paint a portrait of her and she gave him a lock of her hair as a gift.

Unfortunately, the violence that Charlotte wanted to stop by Marat's murder did not end with this. Radical leaders who wanted revenge and were enraged with hatred for women attacked imprisoned queen-widow, Marie Antoinette.

Inspired by Charlotte's act, Blanche Arvoy named her perfume house of Corday after her. The perfume Toujours Moi(1924) is one of the first creations by the house of Corday, and as it was later established, one of her most popular perfumes. Perfumes that appeared later were: Jasmin, Pois de Senteur, L'Ardent Nuit, Femme du Jour, Quand?, L'Heure Romantique and others.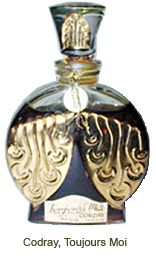 At the beginning of World War Two II, Corday moved to the USA. The most popular perfumes from that period were Tzigane (gypsy), Jet, Fame, Rue de la Paix (for Corday's address in Paris, 15 Rue de la Pais, Paris), as well as its predecessor Toujours Moi.

It is Tojuours Moi that is responsible for the unusual project of Perfume Set To Music, which refers to musical compositions inspired by Corday perfumes. They were written in 1947 and can be found on music CDs by Dr. Samuel Hoffman and the Theremin. Six perfumes by Corday took part in this music project: , Fame, Tzigane, Jet, Possession and L'Ardent Nuit. The author of the music is British composer Harry Revel, who was delighted by the scent of a perfume on a woman in the bar of the George V hotel. That perfume was Toujours Moi.  
 
In the beginning of the 1960s, the history of the house of Corday was interrupted by the last fragrance, Voyage à Paris.

But this was not for good, since the house of Jovoy was restarted in 2006 with seven perfumes of the collection Les 7 Parfums Capitaux, which contain all the most characteristic and the finest features of olfactive groups: Boise, Chypre, Fougere, Hesperide, Marine, Oriental, Poudre.